Best Single Tracks in Cusco
06 October 2022
The city of Cusco in the Quechua language called QOSQO (Navel of the World) is world famous because it was the capital of the Inca empire, which covered part of (Ecuador, Argentina, Bolivia and Chile) and in which the Inca lived. (Supreme Emperor). For this reason there are thousands of trails that reach the city of Cusco from different and very distant places; many of them used until these days by local people to mobilize and called in Quechua language "Qhapaq Ñan".
On the other hand, the city of Cusco is located at 3,500 meters above sea level, its climate is characterized by being dry and with a stable temperature that is generally cold (it does not have much vegetation and neither does it have snow); which helps most of the trails remain intact from hundreds of years ago to the present day.
The mountain bike trails of Cusco are characterized by being mostly very flowy with some technical parts, some of them were worked and built by local riders to make them fun and for cyclists of all levels to enjoy different types of trails, for all types of bicycle (Cross Country - Enduro - Downhill and Route)
Most of the mountain bike rides in Cusco are short between 4 to 7km and are close to the city, which you can reach by pedaling from the city or public transport. The good thing is that you can do several rides in a day, without having to spend a lot of time traveling in vehicles or pedaling for many hours. Although there are some others riders that are located a little further from the city and are really hard and technical.
What makes biking in Cusco unique is that most of the bike trails start in the hills near the city and reach the city center through incredible urban downhills that go down through typical neighborhoods to the city center and some to the main square of Cusco. Many of these mountain bike trails pass very close to important Inca complexes (Saccsayhuaman, Qenqo, Temple of the Moon, Pura Pucara, Balcon del Diablo, Inkilltambo) where we can leave the bike for a moment and enjoy.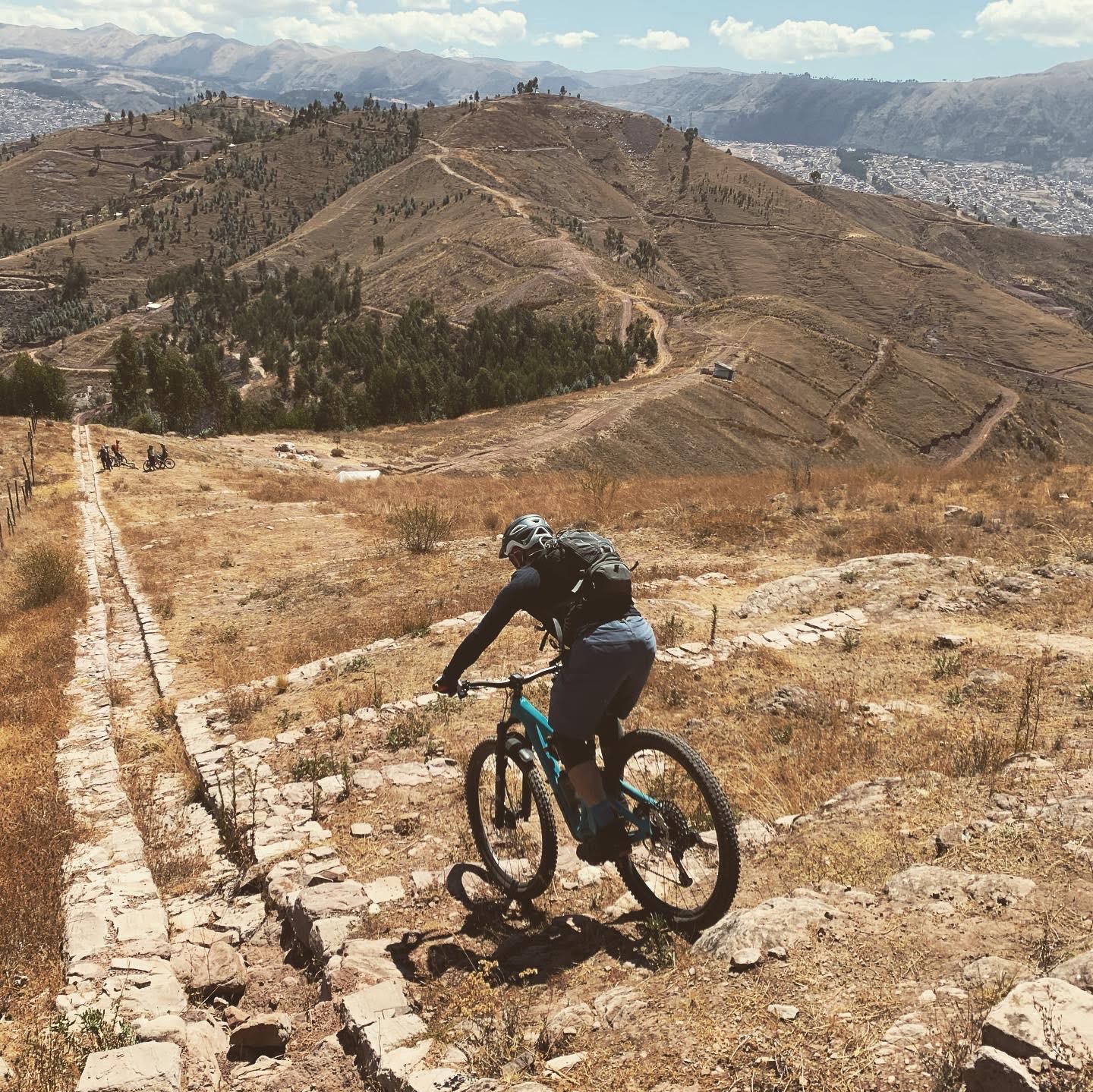 Finally, let's not forget that Peruvian food is currently considered "The best gastronomy in the world" so Cusco, being the epicenter of tourism in Peru, has a wide variety of gastronomic alternatives to enjoy at the end of the rides.
The most famous bike trails in Cusco and ordered by level of difficulty are:
Advanced - Extreme (Black Diamond - Double Black Diamond):
El Brujo, El Pastor, Enduro Lucre, Zapatón, Santa Maria, Urban Downhill, Cusco Sacred Valley Connection via Huchuy Qosqo.
Intermediate - Advanced (Black Diamond):
Yuncaypata, Huayllarcocha, Broggy, Desmuelada, Salkantay Pueblo, Urban Downhill, Santa Maria Classic, Cusco sacred valley connection.
Amateur - Intermediate (Green & Blue):
Corao Forest, Inca Prison, Huayllarcocha, Cusco loop, Cusco Sacred Valley connection.