A Mountain bike trip in the Cordillera Blanca - Huaraz
04 October 2022
I thought I had ridden tough trails and sure, I have ridden in several places and I thought I had known the gnarliest, but Huaraz destroyed my ego.
There were parts that I know I will pass, of course! I passed many very hard sections and I now i have super powers on a bike, but there were other parts that I knew I could pass, but I don't know, maybe it was the steep and the exposure that freak me out.
We went around the Cordillera Huayhuash in Huaraz almost 7 years ago and found uneven and very hard terrain, some of them impossible, but it was nothing to compare with those we found in the Cordillera Blanca and Cordillera Negra of the Callejos de Huaylas (valley of Huaylas)… Huaraz.
Huaraz is a small city with very warmly people and very friendly and some of them really crazy riders. In this case my good friend Jean Marcos – El Negro, who shared the same love as mine for the mountains and ice cold craft beer and with whom since we met we had good times on 2 wheels.
The city has everything you need to spend good times. You will find restaurants, bars, clothing & adventure equipment stores and travel agencies that offer various types of tours, as well as bicycle shops such as "Montañas Mágicas" where they sell spare parts and tools that can save you on bad times.
In the city there are many good short and close routes, but the most representative are "Punta Callan", "Rodeo" and "Piteq"; but there is an infinite number of trails and epic descents.
With the help of Bryan and Jean Marco, who is originally a Professional Climber and knows good bike routes. we were able to find many alternative singletracks or inca trails, one more difficult than the previous one. The fascinating thing about Huaraz is that you feel protected and at the same time intimidated by the immense snow-capped peaks in one side and black sharped rocky mountains, called "La Cordillera Blanca" and "La Cordillera Negra".
Most of the Enduro trails in Huaraz are extreme descents, because the mountains are really high and steep. In order to save some energy, it's better to go to the top by car. I assure you will finish the track very tired because of the technical trails and the high concentration involved.
Going back to the city, I had a curious feeling, I imagine myself in an extreme adventure park, travellers from all over the world come here to practice mountaineering : rock climbing. , snow climbing and trekking. Indeed Huaraz has several of the best treks in the world like Cordillera Huayhuash, Santa Cruz trek, Nevado Pastoruri, Alpamayo loop and innumerable number of trails, which are also perfect to ride by mountain bike.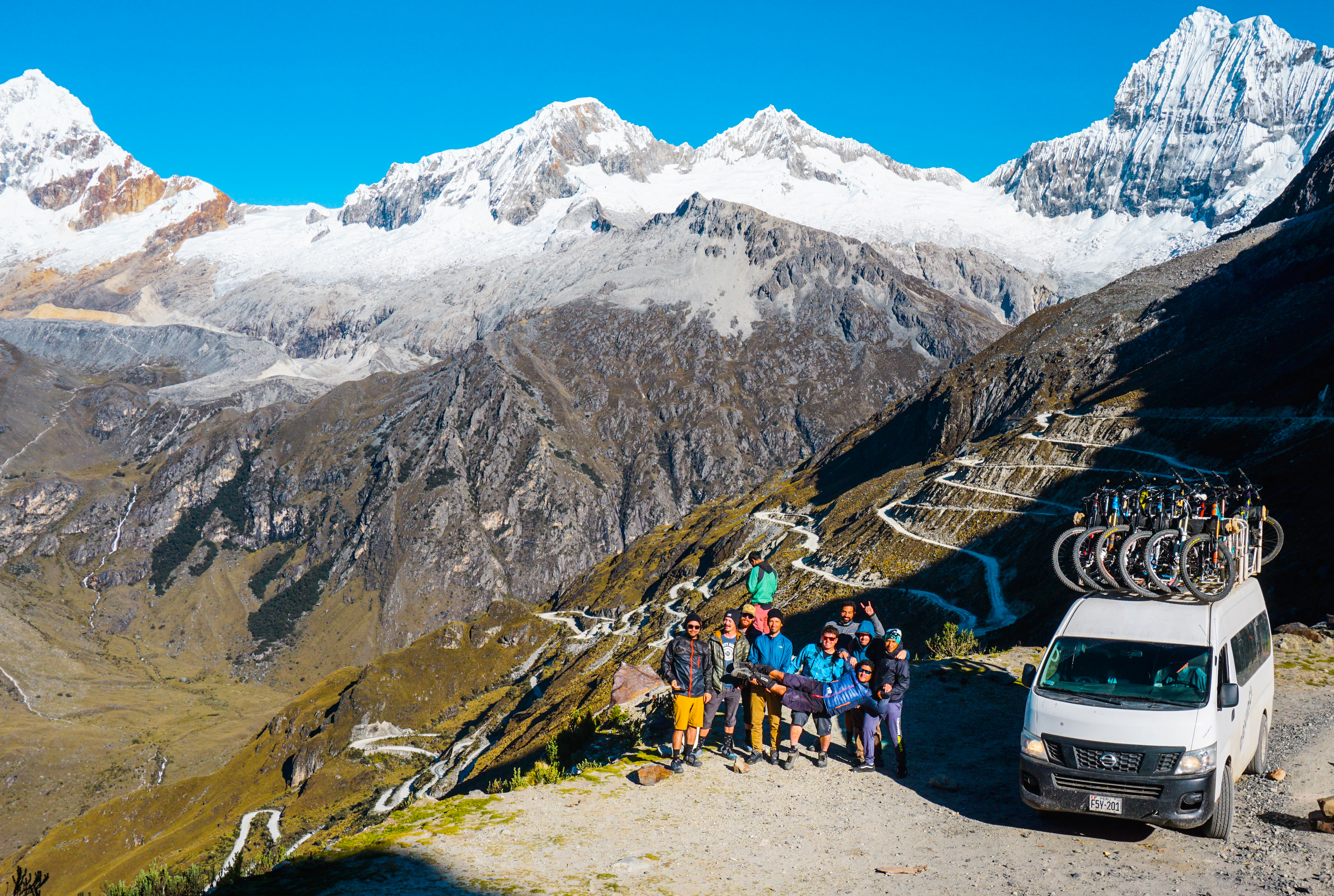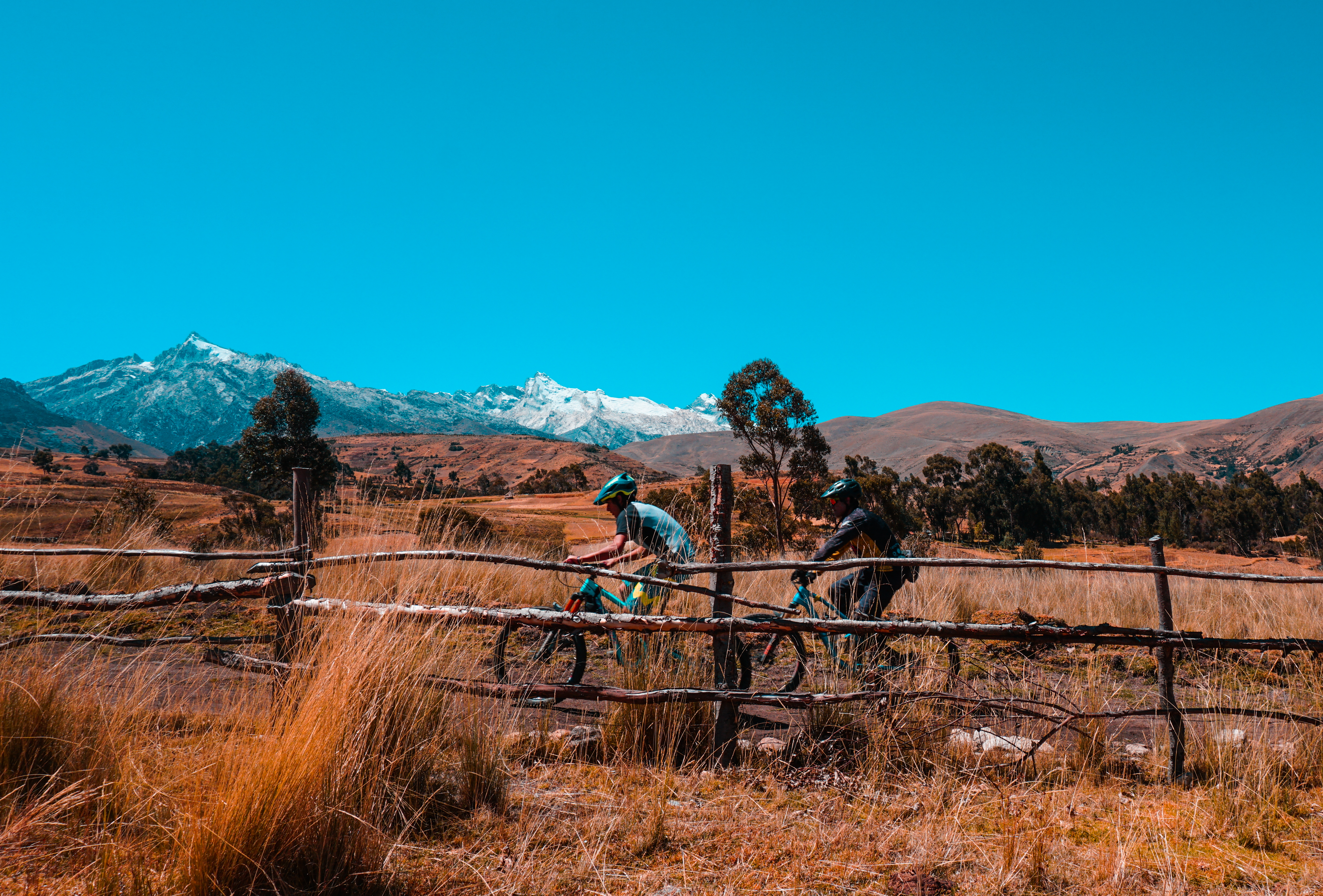 Huaraz and Cusco have some similarities, for example: Cusco belong to the Sacred Valley of the Incas and Huaraz belong to Callejón de Huaylas, Cusco have Machu Picchu and Huaraz have Chavín de Huantar, Cusco have the Ausangate Mountain and Huaraz have the Huascarán Mountain. But Huaraz have something particular: It's infinite….

As my friend Bryan says: "Huaraz is like Cusco, but with Steroids"... More extreme, more wild.

I really like a particular route and made me redefine the rockiest section or "Jardin de Piedra" that i knew. It was "La Laguna de Llaca" From the beginning to the end of the track it was ROCKS ALL THE TIME! : loosy rock, giant rocks, small rocks, rocky curves, rock jumps and rocks in all the shapes that you can imagine. The best way to some arms workout.

We really had good days riding and a funny thing happen once I got back home, all the routes seemed really easy to me in a certain way… Just kidding, but Huaraz is the best place to improve your skills on a mountain bike.

Once we did most of the routes in Huaraz city, we moved to the Callejón de Huaylas, in a town called Yungay near Huascarán National Park. From here we planned the entire expedition and from there good things happen, rather, the most difficult and extreme…
Yungay = Crazy spot
Our first ride We reach in our first ride the highest point of the trail in Huascarán National Park (4700 meters). From there we had a really good view of the Llanganuco laguna.

It was really exciting to ride this crazy trail, honestly i don't realize how I managed to get through some sections still standing on my bike.

Blue sky without clouds with some huge snowy mountains. I know we were really lucky to be there ! and we only had one wish : DON'T FUCK IT (Don't fall or damage the bike) at that height and distance it is not an option to think about a rescue.

Some parts are pure granite rock, like high and vertical steps, there are not so exposed, the tricky part was: While descending these technical trails, you had to choose your line, memorize it and then program your mind and your muscles to follow this line, If you fall you are almost sure to hurt the bike or yourself.

Following our route, comes some chill and flat sections, ride along the Llanganuco Lagoon and just admire such majestic beauty and peace. After a good rest and some photos sessions, it's time for the second descent of the route: Maria Josefa wich is less difficult than the beginning of portachuelo, but it's muddy, full of roots, slippery wet stones and many chachacomos (endemic trees of the area).
Finally We survive Maria Josefa and the show continue : we did some XC, until we reached my favorite part of the trail "the Sierra Andina Brewery". I will never know what an other spot of craft beer located in a top of a mountain. The bartender suffered from the same adrenaline addiction as us, it was mayve a gift from Pachamama. But anyway it's a good place to rest and recover.

From that part began the most exciting part of the day. A few meters from bar start the third descent, exactly here many years ago a huge amount of snow fell from the snowy Huascaran, this avalanche wiped out the city of Yungay where 80,000 people died. So during the traile you feel this energy, it's difficult to explain, it's like a mix of mystery, respect and fear. During the descentnd to the town of Yungay, you pass through a giant graveyard...

I forget to mention that in the Callejón de Huaylas, in the town of Caraz, they sell the best handmade ice cream in the world and some delicious sweets. But there is also the most poisoned Chifa of the world.
Caraz = Sweetness
Fascinated by the ice creams and milky sweets here, we also love the routes here. This part of the Callejón de Huaylas is represented by very exposed and steep trails, with stretches of granite rock and also dirty trails with very loosy stones in several parts. At the beginning the trail is very demanding, because it's a different type of terrain and ride. That don't generate so much confidence and makes you believe that you will slip; once you find the flow you will see that's fun, but it's not finish : there are many curves, some others with steps inside the curve and some other curves still steppy and exposed in the same time.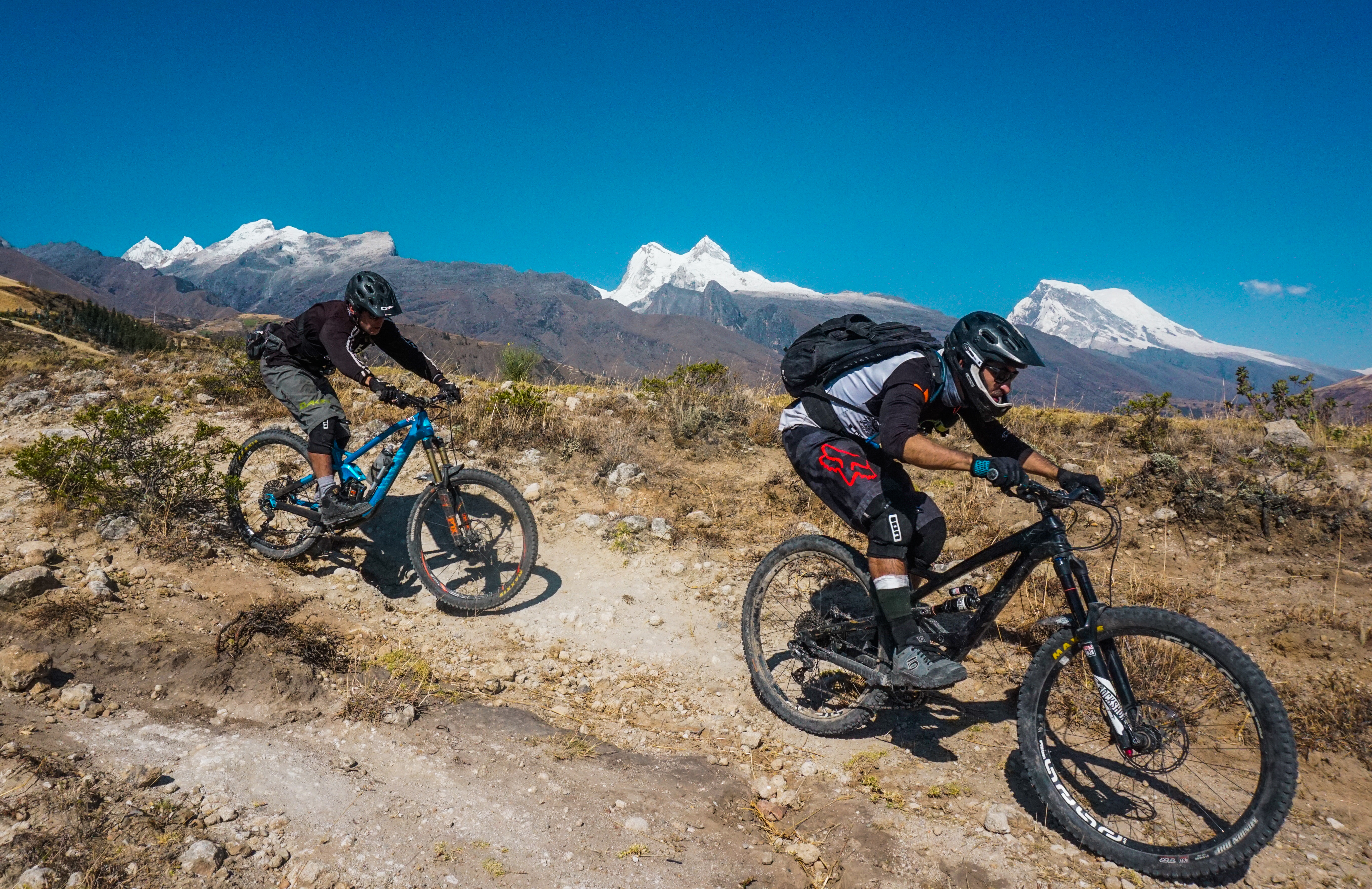 After so many days traveling from Cusco, Lima and Huaraz it's time to rest from so much hustle and bustle. We stayed in a very nice lodge near Caraz, where we spent a couple of days planning the next adventures, do some bike maintenance, and some sightseeing.
We were so lucky with the weather, it was perfect to enjoy the Parón Lagoon (3 hours from Caraz), have a bath in the icy water, do some kayak and of course some mountain bike. This place should definitely be on your travel agenda.
Huaraz has something very special and particular for mountain biking, we just need to continue exploring, cleaning the routes in order to decentralize the most popular places for MTB. Offer something new, improved alternatives and unique experiences to extreme mountain bike lovers.