Puerto Inca & Las Lomas de Atiquipa
28 June 2017
In February of this year, a small group of friends decided to take a mountain bike holiday of our own. Even living in the trail paradise that Cusco is, you sometimes get the itch to explore something fresh and different. We opted to take a roadtrip to Puerto Inca and Las Lomas de Atiquipa, a little-known but reputedly stellar mountain bike destination along Peru's southern coast. Our multi-national, inter-galactic crew was comprised of the following team members: Captain Robert Pacheco (Peru), Felipe (Brazil), Miguel (Chile), Faure (Planet Xenon), and myself (USA). Each expedition member was designated an important and indispensable role within our group. I'll elaborate:


Captain Pacheco, as Rations Manager, managed our basic provisions. (Whereas we others took saltwater baths in the ocean, Captain Pacheco was spotted using our precious drinking water to take full-length camp showers. We were out of water by Day 2.)
Felipe, as Expedition Photographer, was tasked with creating a photo record of our journey from start to finish. (We have about four photos to offer from our 8-day excursion. Exceptional work, Felipe. Bravo.)
Miguel, as Camp Fisherman, was responsible for reeling in and serving up the day's fresh catch. (One week. Two minnows. Five emaciated man-children. You can teach a man to fish, but you can't put the hook in the fish's mouth.)
Faure, as Camp Security Officer, ensured that the ocean maintained a reliable water level for swimming and bathing purposes. (Perched upon the beach, Faure was to be undeterred in gazing at the ocean. After a while, we didn't bother asking for his support in cooking or cleaning, clearly unwilling to compromise his tidal vigilance.)
Myself, Risk Manager, was responsible for looking out for the general well-being of our group. (After a closer look at my team's qualifications, I decided it was every man for himself.)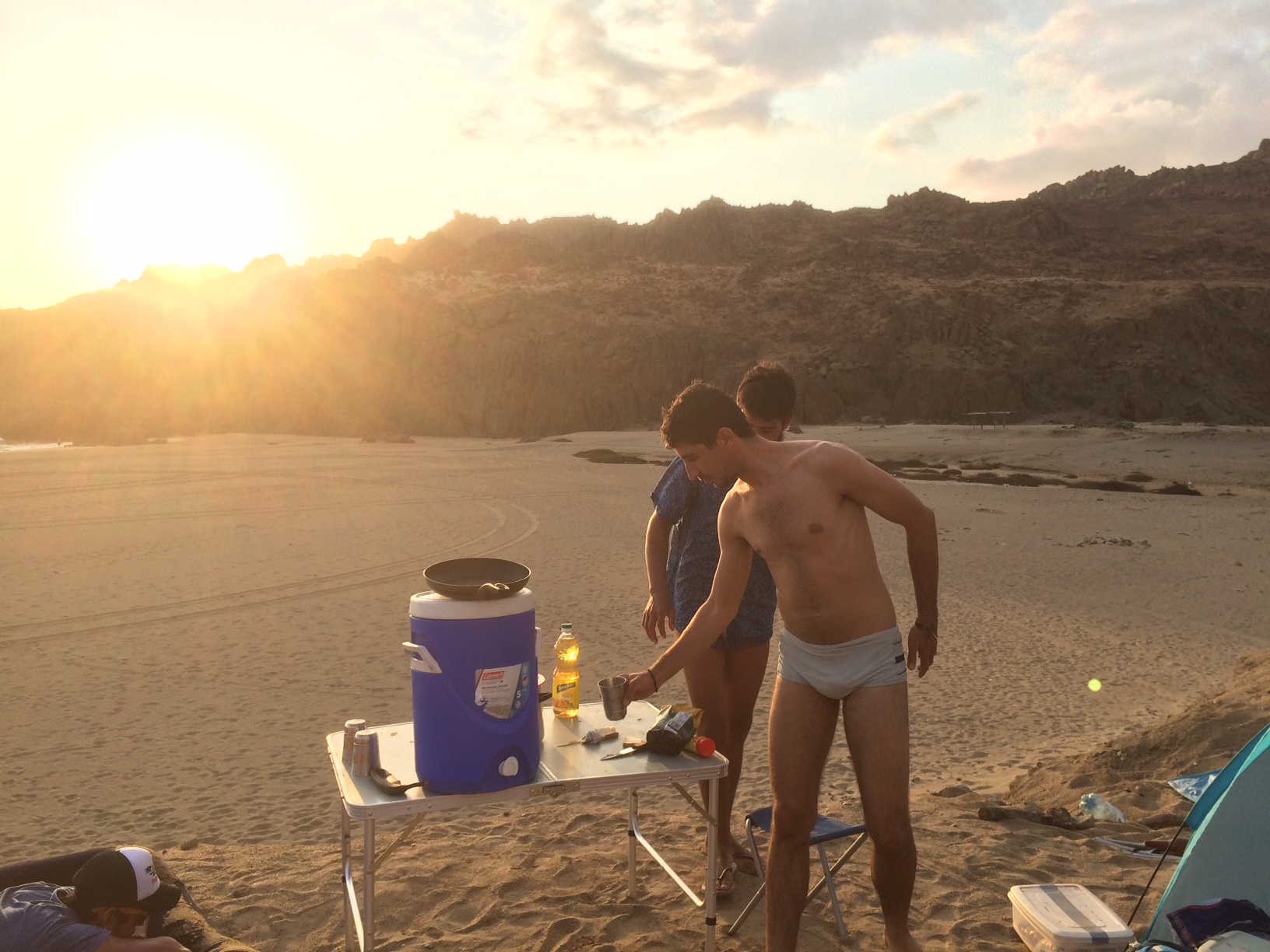 The Lomas of Atiquipa lie neighbor to Puerto Inca, a sheltered cove from which seafood and other native plants and game were transported to Cusco, at the heart of the Incan Empire along the Inca Royal Highway, the Qapac Ñan. Local legend claims that fresh seafood arrived in Cusco from Puerto Inca in a day's time; it took us sixteen hours in truck to get there. As history goes, the Inca Royal Highway operated as a veritable baton race for the empire's couriers, chaskis, who were highly trained, relentless runners who delivered messages and objects from one post to the next at top speed. After pedaling through Atiquipa and Puerto Inca's sweltering heat, one develops a deep respect for anyone that might have taken off at a full sprint through such an inhospitable terrain. Well done, sirs. Well done.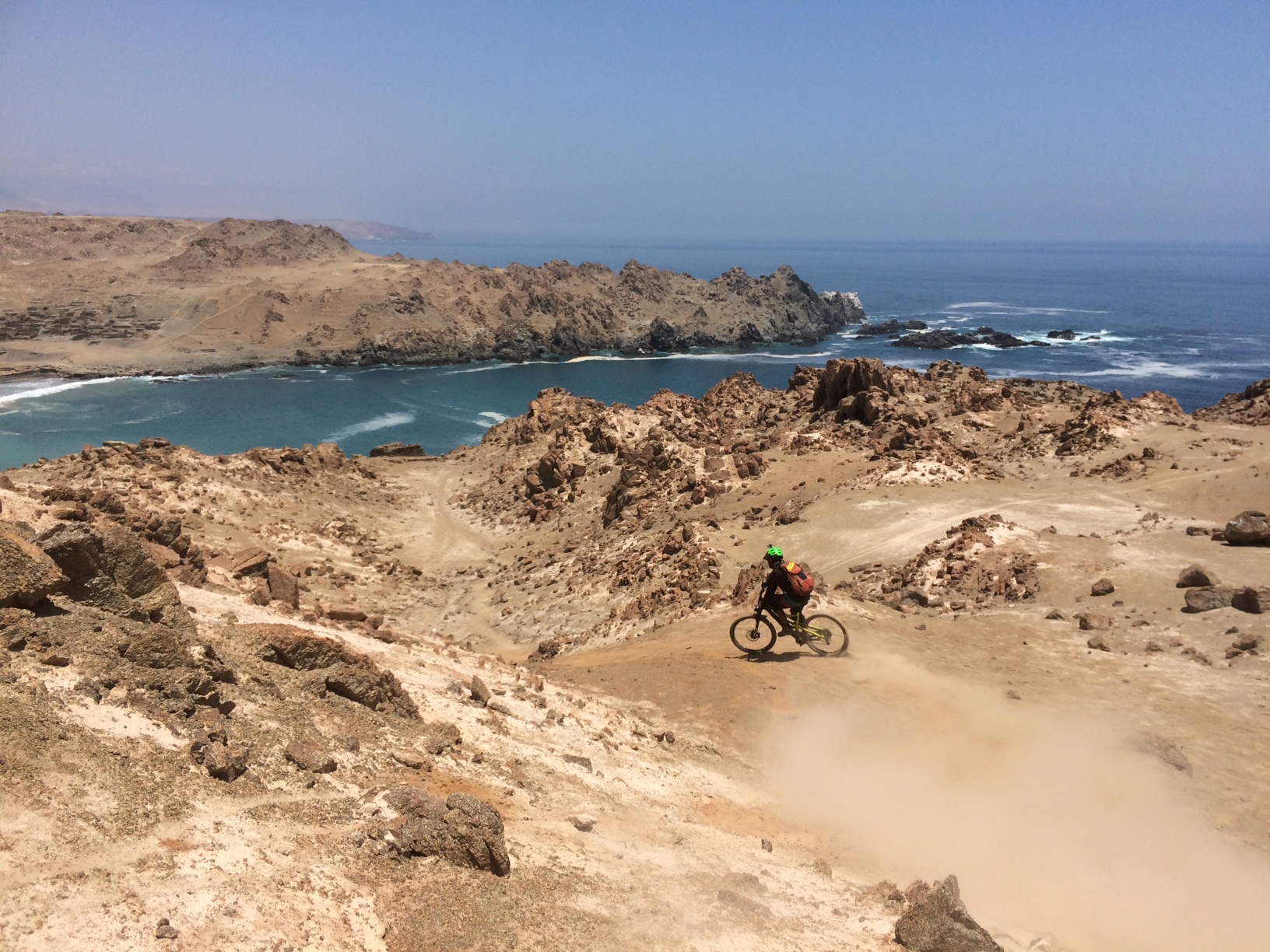 We arrived to Atiquipa in the afternoon and asked around for a good place to camp on the beach. Locals recommended Playa Jihuay as a low-key spot (probably where we wouldn't bother anyone). We re-stocked on beer to replace what had already been taken down on the road, and sought out a good place to camp. With the ocean at our doorstep, cold beer in the cooler, and bikes ready to go, we were set. We built a campfire, grilled some dogs, cracked open some cold ones and drifted into camp mode.


After our first night camped on the beach, we were stoked to experience Puerto Inca's legendary trails for the first time. Bikes were lubed and loaded. Bodies fully lathered with sun-block. Everyone—even despite the early morning heat—was practically grinning ear to ear with giddiness. There's a special sensation that creeps in when you know you're about to get at some fresh dirt.


Well, that sensation quickly crept back out; our truck made it about 500 meters out of camp before the fan-belt snapped. Five overly anxious dudes crammed in a pickup that refuses to budge. No one said much nor reacted, opting instead to slowly digest the reality of the situation: screwed. As the sun moved higher and the temperature climbed, we begrudgingly climbed out of the truck, opened the hood, and combined our mechanical know-how to conclude that…we weren't going anywhere. Half the group would stay with the truck and the other half would have to pedal up towards Atiquipa to inquire about garages and replacement belts. What we had envisioned as a week-long shuttle-and-ride trip suddenly took a different—sweatier—course. The belt needed to be ordered and shipped from Lima (roughly 12 hours north by car), and since it was Saturday, we were going to be without a belt at least until Tuesday. Shit.


We all live and mountain bike in Cusco and its' surrounding ranges at well over 3,000 meters, so the prospect of climbing from sea-level wasn't much cause for concern. Right... If there ever was a week that I earned my descents, this was it. Afternoon temperatures hovered around 39 °C (for those who don't habla Centigrade, that's F'in hot) where the landscape, at best, offers some medium-sized rocks and the occasional shrub-tree at five-kilometer intervals for shade. It hadn't rained in over six months according to the locals. It's the kind of unforgiving terrain that drains a 3-litre reservoir before you're halfway through the climb. Brutal. Scorching. Sweltering. Insufferable. I can go on. The false summits were truthfully the worst: feeling like the trailhead was right over that sandy hill ahead to find a saddle and climb on the other.


For three straight days, we climbed up from our beachfront camp at Playa Jihuay towards the hills, las lomas, and the distant range. We reached a consensus that any spare gram of weight was to be left at camp. No phones. No gadgets. One under-used camera. Multi-tools, pumps, sunblock and snacks distributed amongst the group. We also agreed upon early pre-sunrise starts to avoid the heat, but were miserably unsuccessful in doing so…and paid for it in sweat.


Let's make no mistake. The riding was ridiculously good: stretches of razor-thin, ultra-flowy singletrack up top and loose, sandy, rock-laden, turns down low. We came from Cusco—one of the world's top Downhill destinations—to get after some Peruvian trail riding. That's what we got. Ups and downs. Every trail with the Pacific Ocean as its backdrop. Stone ruins constantly reminded you that this entire coast was once much more than we see now.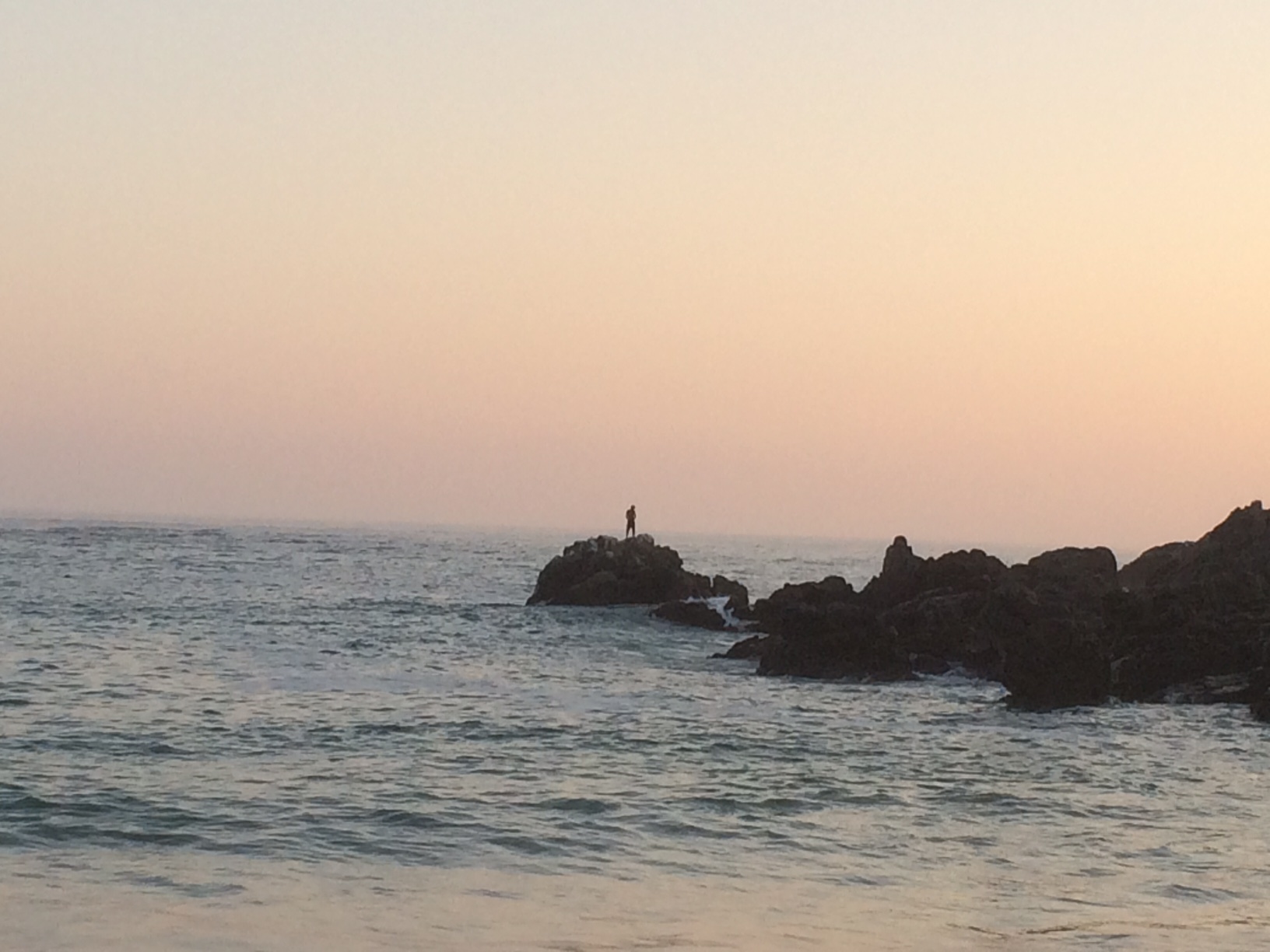 The ride that everyone will remember, without fail, is the Cahuamarca Fortress, a pre-Incan ruin located at the peak of the most distant ridgeline. For two of our shuttle-less days of riding, the only way to Cahuamarca was slow methodical pedal strokes for 4,000 ft. of elevation gain up from the beach. At that point, the bike has to be shouldered for an additional 500 ft. up to the ruins. Arrive. Find shade. Drink water (if any left). Recover. Bombs away. Trails through barren hills and desert are easy to trace with the eye, so, once you've honed in on the line, there's really no reason to slow down nor to look back; the first time down is as fast as the last, which, as a rider, you can rarely say about a trail. After five hours of sweat-drenching climb, the pay-off: a six-inch-wide, no-brakes-necessary, hold-on-tight singletrack down to the Pacific, where you finish at camp. Drop your bike in the sand (and, yea, prepare to re-grease or replace every bearing when the trip is done), strip down, and straight in to the ocean. Life is good. Good an' hot. Worry about the fan-belt later.


Camp life at Playa Jihuay is where things get interesting. We awoke each day to the company of locals combing the beaches, not for conk shells, but for slimy, washed-up masses of a marine algae—dried and exported to China to make shampoo. Our dress code was underwear only. Saltwater bathing. Sandy, hot dogs on a stick. The alcohol adds to the general delirium. Someone wasn't trotting far enough away from camp to drop trou. Tempers flare. Precious granola bars and other food stuffs mysteriously disappear. Exhaustion triumphs and what we might have imagined as nights sitting around a campfire and passing around a bottle are in reality five lifeless, partially burned bodies, snoring at full volume at eight o'clock. And the odor emanating from our camp is best left in the past. Sunset is the one reprieve from an otherwise merciless sun.


The most useful item that we packed was a twelve-dollar inflatable mattress which doubled as a waterproof tarp for the roof rack and, more importantly, tripled as a raft upon which our crew of castaways could take to the seas. When you've stranded yourself in a small cove along a stretch of desert coastline, the ocean is your one form of entertainment—aside from the bikes—and our inflatable mattress was our vessel to set sail.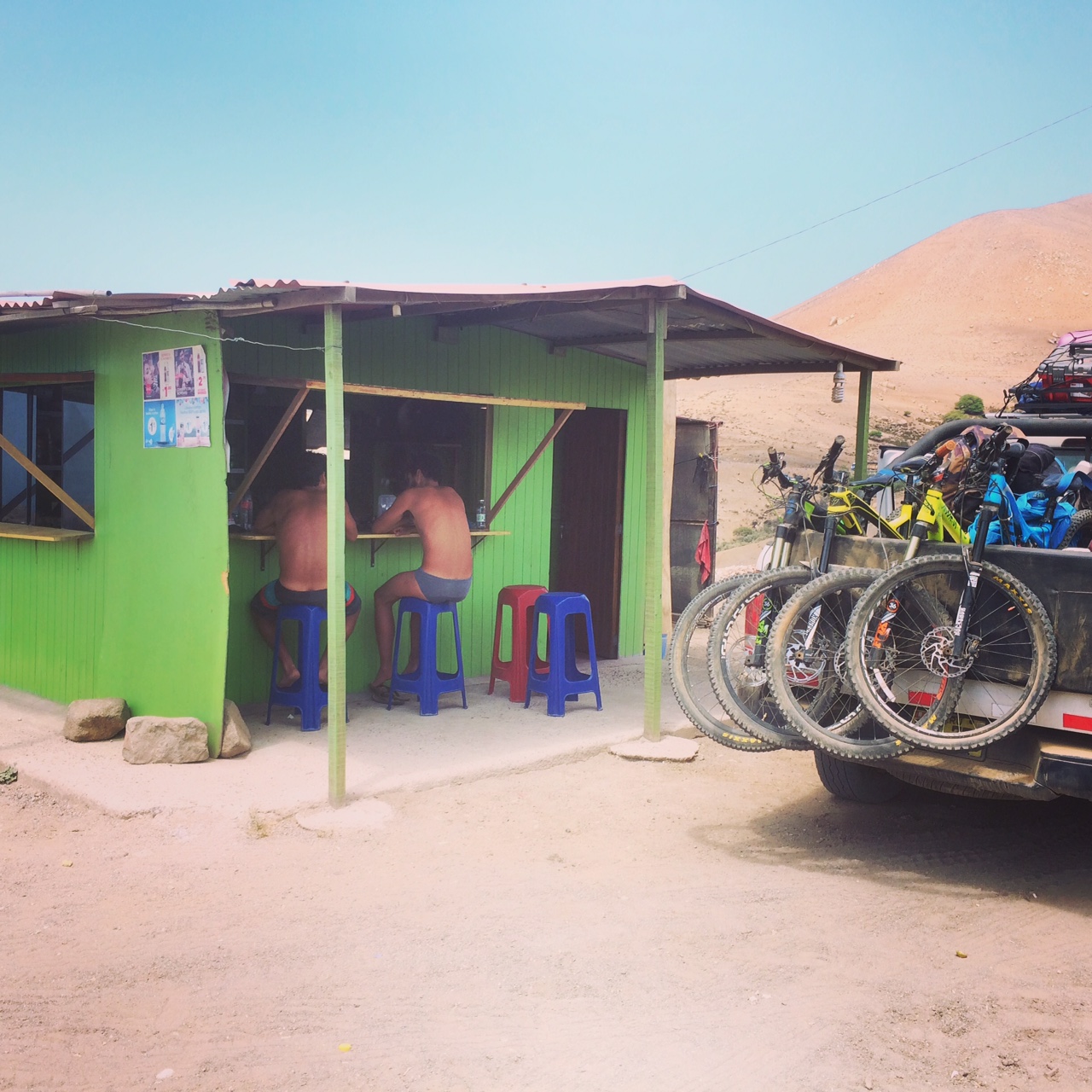 Lunch was always glorious. As our Rations Manager hadn't fully planned to feed a dirtbag family of five after four and five-hour climbs, we had to find alternatives. The alternative was awesome! Along the side of the highway we found several restaurants—if you call sheet metal and scrap wood nailed together a restaurant—where you score a cold beer and fresh fish for a couple of bucks. We honed in our restaurant shack during our first ride and invariably lunched there for every day of the trip. Doña María, the proprietor and chef, apart from preparing killer roadside meals, served as sort of a surrogate mother for five lost boys clearly out of their element.


When the fan-belt finally arrived, we were already defeated. Sure, we were stoked to leave parts of the climbs to diesel power and to re-stock our camp with food, water, and beer, but 3 days of baking under the sun had taken its toll. We mustered the energy to ride for two more days, but our crew was visibly exhausted and demoralized. It was time to set sail one last time on our inflatable barge, enjoy the ocean, and then return to Cusco—our zero humidity, temperature-is-just-right mountain bike paradise.


Aside from the stereo and the window occasionally being rolled down to ventilate silent and unclaimed farts, the ride home was quiet. Each person reflected on the Cahuamarca Fortress ride, whether he'd ever go back, and which one of us he would have rather left down at Playa Jihuay.